Art Room News
National Hispanic Heritage Month is the period from September 15th to October 15th in the United States, when people recognize the contributions of Hispanic and Latino Americans to the United States and celebrate the group's heritage and culture. During Art students will celebrate the country of Mexico by creating Heart in Hand Folk Art. Our colorful hands will be on display in the hallway soon! To learn more about Hispanic Heritage Month check out the video below.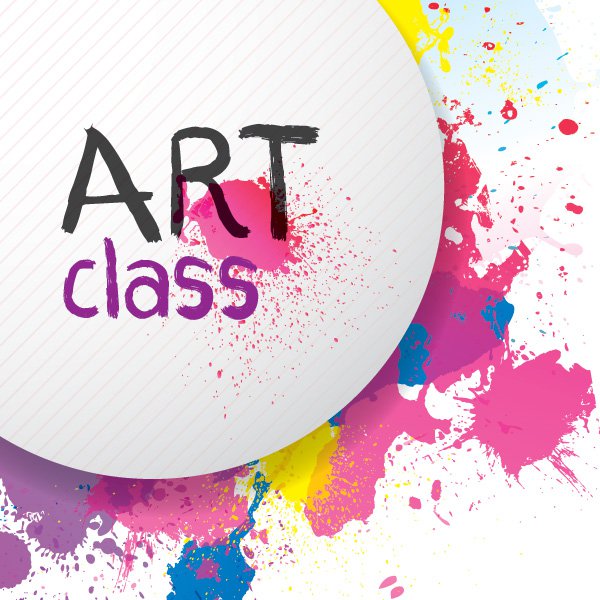 What We're Learning in Art: 1st Nine Weeks
Visual Arts Curriculum Map
Unit Focus: By Grade
Kdg– Line, Shape, Pattern
1st– Line, Shape, Pattern
2nd– Line, Shape, Pattern, Rhythm, Movement
3rd- Line, Shape, Pattern, Rhythm, Movement
4th-Line, Shape, Pattern, Rhythm, Movement
5th- Line, Shape, Pattern, Rhythm, Movement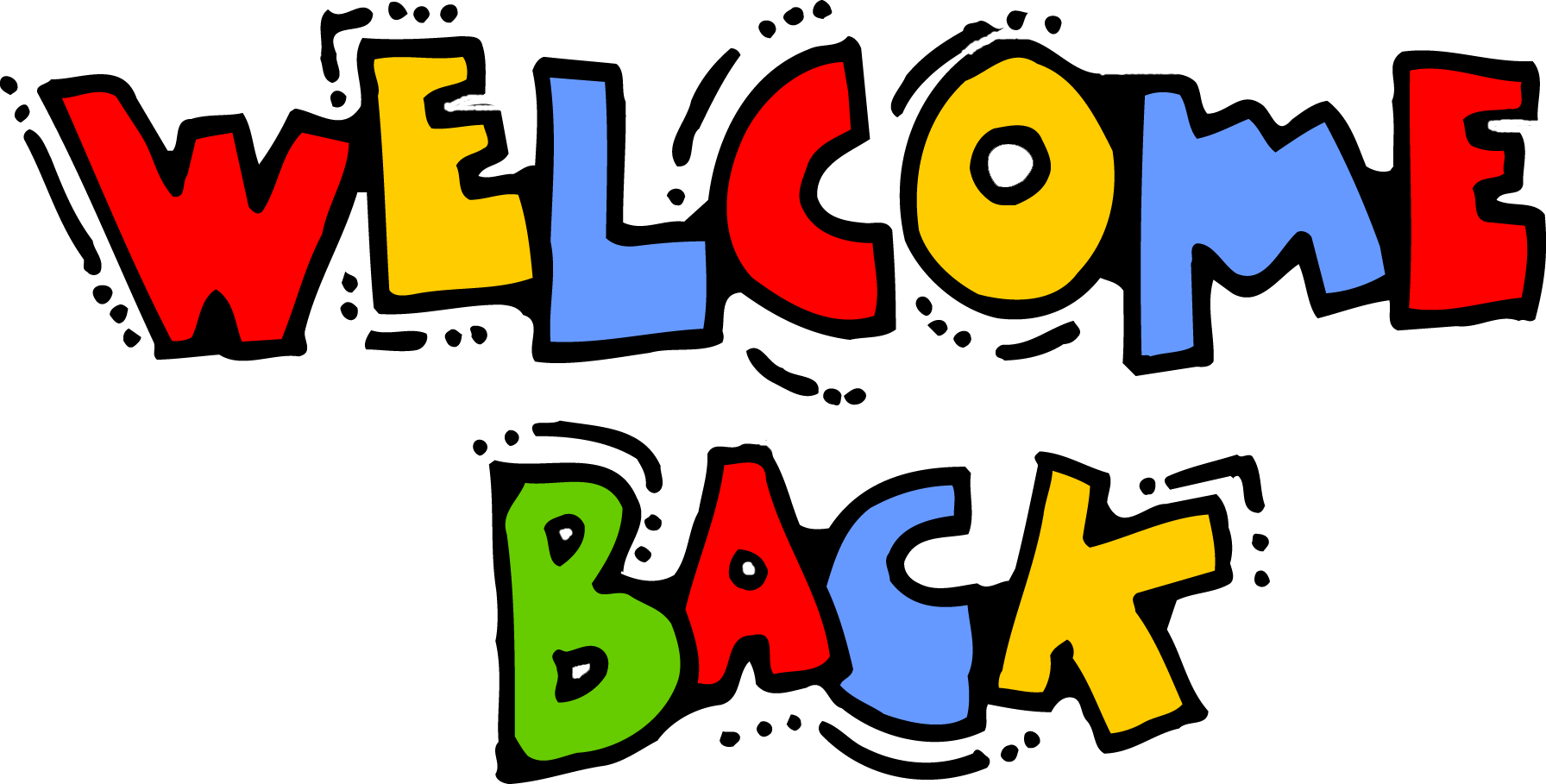 Hello Parents and Students…
I am looking forward to a wonderful, productive, and creative year with your child. My goal as an art teacher is to motivate students to express themselves visually and creatively while they build a foundation of art knowledge based on the Elements of Art and Principles of Design. Students will create meaningful art projects using a variety of art media as they experience Art History, Art Production, Art Aesthetics, and Art Criticism.
Artwork will be displayed around the school, so please be sure to stop in and take a look! You can also see examples of student work and learn more about the art program by visiting this webpage often.
MASON CREEK ART SHOW 2016...
A BIG "thank you" to everyone who attended our Art show and purchased your child's artwork. If you did not make it to the show, you can still purchase your child's artwork. All students in grades K-5th created artwork for the show...
K- Monet Waterlilies 3rd- Bridge Silhouettes
1st-Monet Sailboats 4th- Complementary Cityscapes
2nd- Moonlight Cats 5th- Monochromatic Action Silhouettes
This is our BIG fundraiser, so all the money collected will be used to support the art program so that we can purchase the materials need throughout the year. All artwork comes nicely framed for $25.00. This would make a perfect gift for your 5th grader moving on to middle school. Checks/Cash accepted, make checks payable to MAES. Check out pics from our Art show below! Thank you for your support!

Support The Arts @ MAES...
Our Freedom Quilt...Grades 3rd-5th
Students in grades 3rd-5th celebrated Black History Month by collaborating to create a unique paper Freedom Quilt based on the slave quilt code. The slave quilt code is the idea that African American slaves used quilts to communicate information about how to escape to freedom. There is much written about the use of quilts during the Underground Railroad days. Known as the Freedom Quilt patterns, these quilts were displayed as signals to slaves that they should begin to pack for the journey (Wagon Wheel),dress up (Shoofly) and get ready to escape (Tumbling Blocks). Quilts were also used to alert fugitive slaves to food (Bear's Paw), the way north (Star) and danger (Log Cabin). Because quilts were such an American tradition, they could be hung on porches or displayed on fences without attracting attention.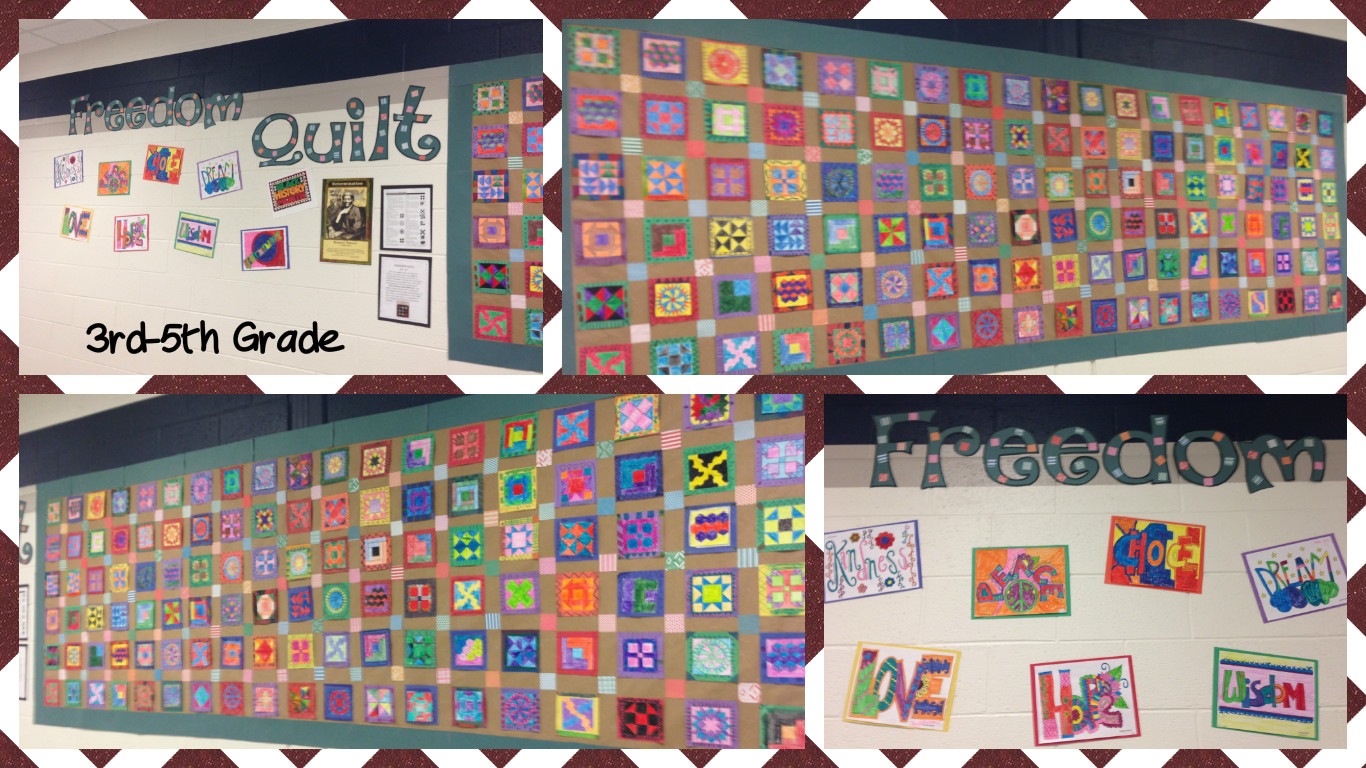 Getting to Know African American Artists...
><
February...
Winter Art Humor...
It's so cold, even Mona Lisa had to bundle up!
It's a New Year!!!
What We're Learning in Art: 2nd Nine Weeks

Students in grades K-5 have been having a blast creating with color! Students have had fun experimenting with color, learning all about the color wheel, and discovering different color schemes. The student's completed artwork will be on display at our Spring Art Show in March. More information will sent home as the date approaches.
Visual Arts Curriculum Map
Unit Focus:
Kdg– Color
1st– Color, Contrast, Value
2nd– Color, Contrast, Value
3rd- Color, Contrast, Value, Emphasis
4th-Color, Contrast, Value, Emphasis
5th- Color, Contrast, Value, Emphasis
Students in grades 3rd-5th have been exploring the diverse cultures of Hispanic Americans and how they celebrate their Independence. For centuries Hispanic Americans have played an important role in building the United States. Learn more about Hispanic Heritage Month below.
Welcome To Art!
What We're Learning in Art: 1st Nine Weeks
Visual Arts Curriculum Map
Unit Focus:
Kdg– Line, Shape, Pattern
1st– Line, Shape, Pattern
2nd– Line, Shape, Pattern, Rhythm, Movement
3rd- Line, Shape, Pattern, Rhythm, Movement
4th-Line, Shape, Pattern, Rhythm, Movement
5th- Line, Shape, Pattern, Rhythm, Movement
Welcome to a new school year students and parents! The purpose of this webpage is to allow parents, friends, students, and other teachers to see examples of each project the students at Mason Creek are working on. I will post examples of student artwork and descriptions of each project throughout the year. In addition, there will be art room updates, website links, and other important information added often. Please enjoy the page and check back often. Don't forget to take time to view the student artwork displayed in the hallways of our school (coming soon)!
1) Art Generates a Love of Learning & Creativity. Art develops a willingness to explore what has not existed before. Art teaches risk taking, learning from one's mistakes, and being open to other possibilities. Kids who are creative are also curious and passionate about knowing more.
2) Art Develops the Whole Brain. Art strengthens focus and increases attention, develops hand-eye coordination, requires practice and strategic thinking, and involves interacting with the material world through different tools and art mediums.
3) Art Prepares Kids for the Future. Creative, open-minded people are highly desired in all career paths. Art and creative education increases the future quality of the local and global community. Being creative is a life long skill and can be used in every day situations.
4) Art Teaches Problem Solving. Making art teaches that there is more than one solution to the same problem. Art challenges our beliefs and encourages open-ended thinking that creates an environment of questions rather than answers.
5) Art Supports Emotional Intelligence. Art supports the expression of complex feelings that help kids feel better about them selves and helps them understand others by "seeing" what they have expressed and created. Art supports personal meaning in life, discovering joy in one's own self, often being surprised, and then eliciting it in others.
6) Art Builds Community. Art reaches across racial stereotypes, religious barriers, and socio-economical levels and prejudices. Seeing other culture's creative expression allows everyone to be more connected and less isolated – "see how we are all related." Art creates a sense of belonging.
7) Art Improves Holistic Health. Art builds self-esteem, increases motivation and student attendance, improves grades and communications, nurtures teamwork, and strengthens our relationship to the environment.
8) Art is Big Business. At the core of the multi-billion dollar film and video game industry are artists creating images and stories. Every commercial product is designed by artists from chairs to cars, space stations to iPods. A Van Gogh painting sold for 83 million dollars.
9) Art Awakens the Senses. Art opens the heart and mind to possibilities and fuels the imagination. Art is a process of learning to create ourselves and experience the world in new ways. Arts support the bigger picture view of life: beauty, symbols, spirituality, storytelling, it also helps us step out of time allowing one to be present in the moment. Art keeps the magic alive.
10) Art is Eternal. Creativity and self-expression has always been essential to our humanity. Our earliest creative expressions were recorded in petroglyphs, cave paintings, and ancient sculptures. One of the first things kids do is draw, paint, and use their imaginations to play.